086 – WRESTLING SUPERSTARS
Live from Golden State Wrestling Studios, Burbank, CA!
Commissioner Patrick started the show by announcing THE CALIFORNIA CUP, a tag team tournament, that would be happening on CARD #89. This brought a huge cheer from the studio audience. Commissioner Patrick announced the first 4 teams who'd be participating in the tournament.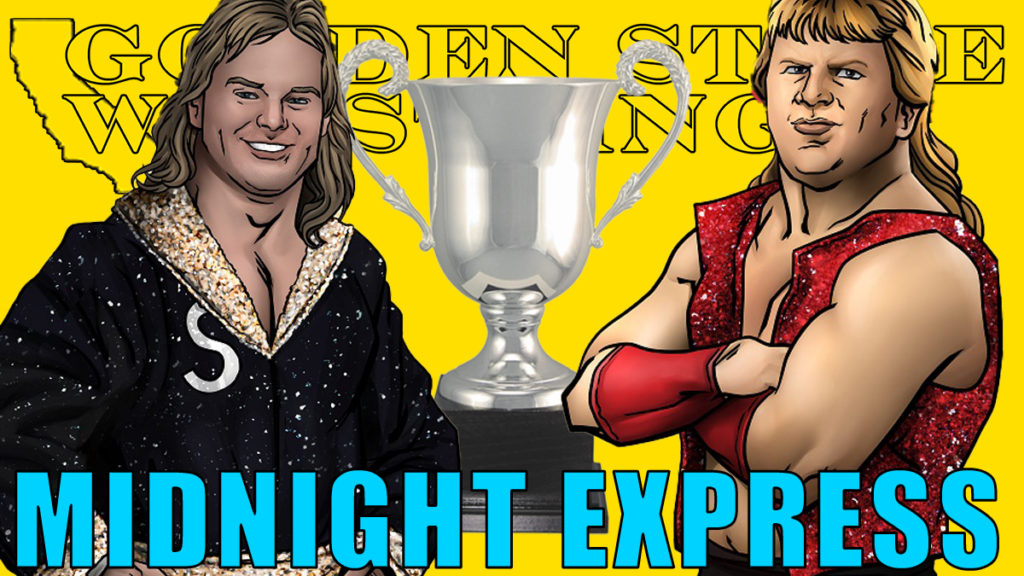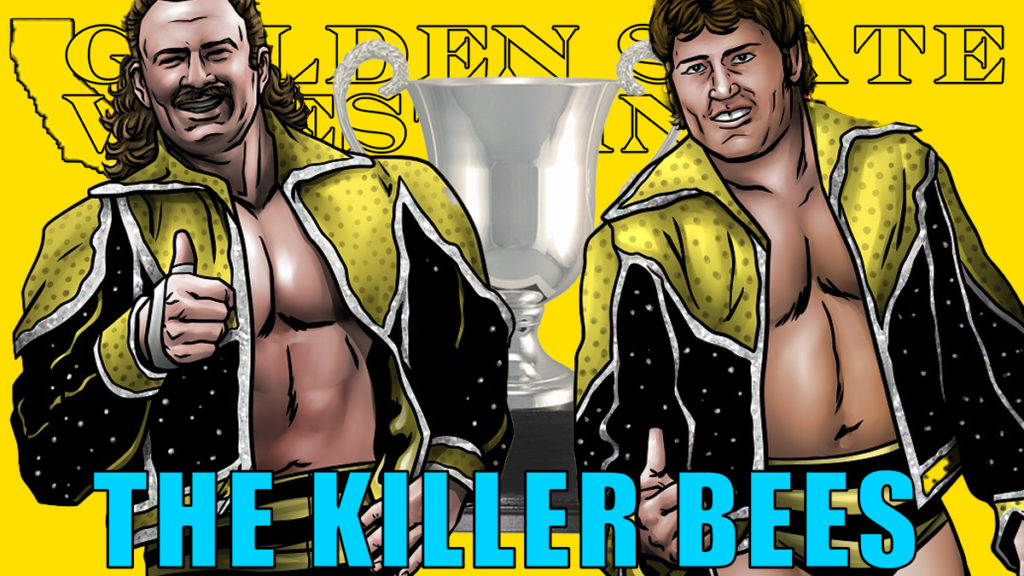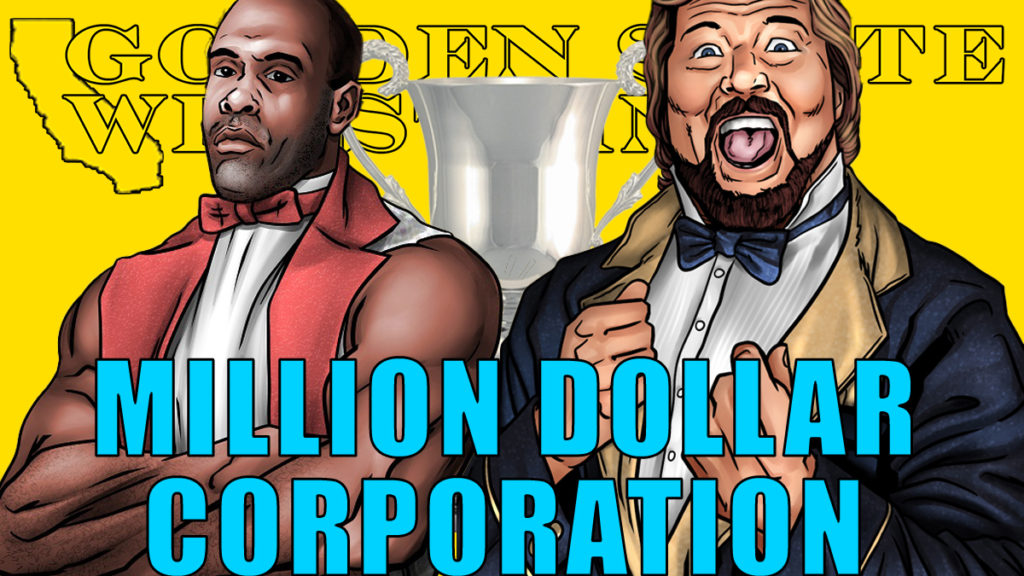 and reuniting for the tournament…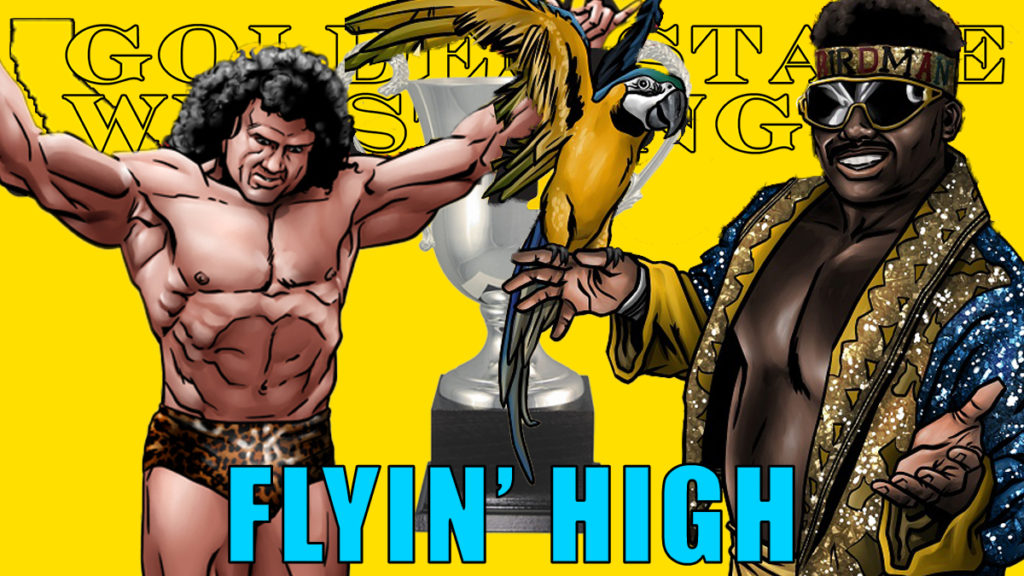 Four more teams will be announced soon! Not only will the winning team hold the prestigious CALIFORNIA CUP, they will also get a title shot at the WORLD TAG TEAM CHAMPIONS!
MATCH #1
Fabulous Moolah d. Rockin' Robin via pinfall after a JACKKNIFE CRADLE – * – This rematch from SURVIVOR SERIES was an electric opener! Moolah was dominant but the resilience of Rockin' Robin cannot go unnoticed. She continued kicking out of every move Moolah hit her with!
During the match, Sensational Sherri came to ringside and after Moolah got her hand raised Sherri shouted up to her that she should pay attention to the next episode of WRESTLING CHALLENGE. Moolah didn't look concerned.
MATCH #2
MIDNIGHT EXPRESS d. FLYIN' HIGH via pinfall when Stan Lane covered Koko B. Ware after ROCKET LAUNCHER – SQUASH – Snuka and Ware were super rusty as a team. Cornette's men just steamrolled them.
CORNETTE: You just got a preview what's gonna happen at THE CALIFORNIA CUP!
MATCH #3
The Mountie d. Jim Milliman via pinfallafter a SHORT CHOKE SLAM – SQUASH – The Mountie is back from injury and he just destroyed Milliman. Interesting to note that The Mountie arrived without Sensation Sherri prompting questions as to whether he's still with the MILLION DOLLAR CORPORATION. It was announced that The Mountie would be the guest on Bill Apter's Hot Seat on the next episode of WRESTLING CHALLENGE.
MATCH #4
DREAM TEAM d. THE BUSHWHACKERS via submission when Brutus Beefcake locked Luke in the SLEEPER – * – THE BUSHWHACKERS started a house of fire but Valentine and Beefcake used some double teaming to get on offense to get the win.
MATCH #5
Andre the Giant d. Mister X via submission with a bear hug – ** – Mister X gave it his all but he was no match for The Giant. After the match, Andre waved to the studio audience and then made his way to Piper's Pit.
PIPER'S PIT
GUEST: Andre the Giant.
Andre walked on set and strode up to Piper. Cowboy Bob Orton tensed and stood between Andre and Piper.
PIPER: You're a big fella aren't you?
Andre smirks and looks down at both Orton and Piper.
PIPER: Course, there's a lot of big guys here in Golden State Wrestling. I'm mean Ace here is pretty big. That One Man Gang fella is pretty big. But you know, there's big and then there's big and powerful. And, don't get me wrong, you're big and powerful, but I think there's someone bigger. And more powerful.
Andre laughs.
ANDRE: Who?
PIPER: Oh, a little fella named King Kong Bundy
Andre laughs louder.
ANDRE: Bundy is a flea compared to The Giant.
PIPER: Oh, come on now. That's not nice. I mean would you say that to his face?
Suddenly Bundy charged from behind the set and clobbered Andre knocking him to the floor! Orton and Piper began helping Bundy stomp away at Andre! They had free rein for about 15-20 seconds when suddenly Jimmy Snuka and Koko B. Ware rushed the set to even the odds! The studio audience was electric as all six men brawled! Finally, security rushed the stage and was able to separate them all.
Amid the chaos and cheers, Andre challenged Bundy, Piper and Orton to a six-man tag team match on WRESTLING CHALLENGE! Bundy accepted! The crowd went nuts!
MAIN EVENT
The Spoiler d. George "The Animal" Steele via pinfall after a rope-walk smash – **** – The Spoiler gets revenge for Steele eliminating him at SURVIVOR SERIES. Super scientific match on The Spoiler's part. The Spoiler was able to outmaneuver Steele's unpredictability and methodically took The Animal apart.
The Spoiler stood on the second rope with his arms crossed as the crowd booed him and the credits started to roll.
Goodnight, fans!