101 – WRESTLING SUPERSTARS
Live from Golden State Studios, Burbank, CA!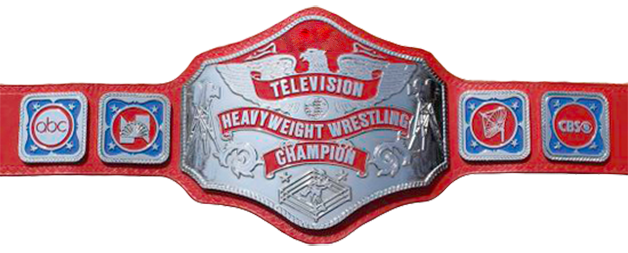 Commissioner Patrick is with Gordon Solie. The new GSW TELEVISION CHAMPIONSHIP sits on the interview desk. Patrick announces that tonight we begin the 16 Man – Single Elimination Tournament to crown the first ever GSW TELEVISION CHAMPION. We have two matches tonight and then more matches will be spread through the weeks ahead.
"Leaping" Lanny Poffo is in the ring.
POFFO:
Tonight begins a quest
An uphill test
To become the champion of all tv.
I've been working out,
For this opening bout.
That title will belong to me.
My opponent wears a mask.
Why? I didn't ask.
Because I have some style and grace.
But if I were to guess,
I'd say it's to hide the mess
And by mess I mean, his face.
The Spoiler charges the ring and the bell sounds!
MATCH #1
GSW TELEVISION CHAMPIONSHIP TOURNAMENT – ROUND ONE
The Spoiler d. "Leaping" Lanny Poffo via pinfall after an elbow drop – **** – This match almost hit the 10 minute time limit but right at the end, Spoiler was able to put Poffo away.
THE SPOILER: The biggest mistake GSW has made, besides joining the LWA years ago, is putting me in this tournament! When that Television Championship is around my waist, you're in for a world of hurt.
MATCH #2
Randy "Macho Man" Savage d. George South via countout after a flying axe-handle from the top turnbuckle while South was not he floor – ** – Another dominating performance by The Macho Man who is, so far, undefeated here in GSW.
RANDY SAVAGE: Bit by bit. Step by step. Randy Savage is climbing the ladder here in GOLDEN STATE WRESTLING. People are coming up to the Macho Man on the street asking me why I didn't throw my name in to the ring for the TELEVISION CHAMPIONSHIP. Well, let me tell you this…the Macho Man has a plan, yeah. And that plan is slowly percolating in the the mind on the Macho Man and at the present time, the plan does not yet include the TELEVISION CHAMPIONSHIP. But rest assured, if it did or if it ever does, there will be nothing stopping me from taking it. Oh, yeah!
MATCH #3
MIDNIGHT EXPRESS d. Kenny Jay & Jim Milliman when Milliman accidentally hits the ref while trying to make a pin save – DUD – After the match, Lane and Eaton deliver a beatdown to their opponents and toss them from the ring.
JIM CORNETTE: Bulldogs! I bet you're feeling pretty smart right now. I bet you're feeling like the baddest kids on the block because you got a fluke win over the MIDNIGHT EXPRESS! One win doesn't mean squat. It ain't over yet!
MATCH #4
Sherri Martel & Rockin' Robin d. Judy Martin & Leilani Kai via pinfall when Robin hits Kai with a TOP ROPE FLYING BULLDOG – SQUASH – Jimmy Hart, confident at the start, is beside himself that his charges fell so quickly.
MATCH #5
King Harley Race d. Mister X via pinfall after the PILEDRIVER – SQUASH – The King wastes no time in crushing Mister X.
KING HARLEY RACE: Iron Sheik. Andre the Giant. When your current conflict is over. Whichever of you holds the title. The King is coming for you.
PIPER'S PIT
with guests: "Ravishing" Rick Rude & Bobby "The Brain" Heenan – Ravishing Rick Rude goes on and on about being the only true man in Golden State Wrestling.
PIPER: You know Rick, I'm a man. I've been known to get a lady or two now and then.
RUDE: In that dress?
A shoving match breaks out and Cowboy Bob Orton and Bobby Heenan are able to separate the two men. The crowd is egging them on to fight but it doesn't look like if it's gonna happen, it'll happen today.
COMMERCIAL: Tickets on sale now for the big live event at the Centennial Garden Arena in Bakersfield , California. The Main Event signed already is WORLD HEAVYWEIGHT CHAMPION The Iron Sheik teaming with THE BOLSHEVIKS to take on Andre the Giant and WORLD TAG TEAM CHAMPIONS THE POWERS OF PAIN in an ELIMINATION RULES MATCH! Tickets are on sale now and will sell out! Don't miss it!
MAIN EVENT
GSW TELEVISION CHAMPIONSHIP TOURNAMENT – ROUND ONE
Terry Gordy d. S.D. Jones via pinfall after a POWERBOMB – SQUASH – Gordy stormed the ring and completely destroyed S.D. Jones.
TERRY GORDY: I made a promise there'd be gold around my waist by Wrestlemania. You're seeing that plan in action.
SIR OLIVER HUMPERDINK: And with Humperdink in his corner, it's going to happen.
The crowd give a big cheer as the credits start to roll.
Goodnight, fans!